Kako mogu ručno postaviti WordPress cronjob?
WordPress prema zadanim postavkama izvršava brojne zadatke, koji se nazivaju cron poslovi, na svakoj stranici koja se učita. Ovi zadaci održavaju WordPress čistim i ažuriranim, ali zahtijeva puno resursa za veliki broj posjetitelja i mogu odgoditi vašu web lokaciju. Budući da je važno izvršiti ove zadatke, u ovom ćemo članku objasniti kako ručno konfigurirati WordPress cron posao.
Steps
Step 1. Log in to cPanel.
Step 2. U odjeljku Files click File Manager.
Step 3. Idite do mape u kojoj je instaliran WordPress. Najčešće je to / public_html / ili / public_html / wordpress / .
Step 4. Kliknite desno na datoteku wp-config.php i kliknite Edit.
Step 5. Pomaknite se prema dolje dok ne dobijete tekst To je sve, zaustavite uređivanje! Sretan blog . Ako ne vidite ovaj tekst, pomaknite se na dno. Zalijepite sljedeći redak gore:
define('DISABLE_WP_CRON', true);
Korak 6. Click Save Changes, a zatim Close u gornjem desnom uglu.
Step 7. Vratite se na cPanel i kliknite Cron Jobs u kategoriji Advanced .
Step 8. U odjeljku Common Settings odaberite Twice a day.
Korak 9. Pronađite mapu u kojoj je instaliran WordPress. Ako je trenutna lokacija / public_html / , dodajte sljedeći redak pod Command:
cd /home/your_account/public_html; php -q wp-cron.php
Promijenite gornji redak na mjesto WordPress instalacije ako je instalirana u drugoj mapi. Ažurirajte your_account na svoje korisničko ime za cPanel.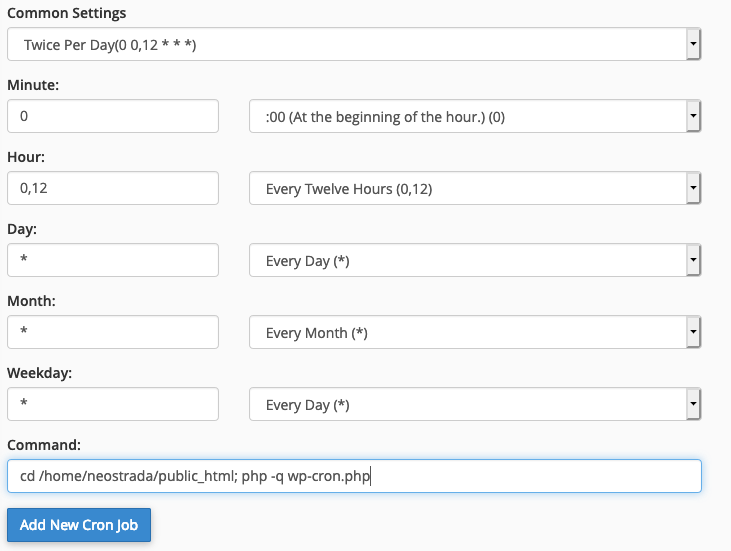 Korak 10. Click Add New Cron Job da biste dodali cron posao.