Kako mogu resetirati lozinku za WordPress?
Morat ćete znati korisničko ime administratora

Step 1. Log in to cPanel.
Step 2. U kategoriji Softver kliknite Softaculous Apps Installer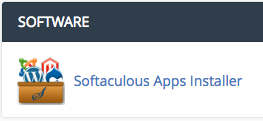 Step 3. Click Instalacije

Step 4. Dobit ćete pregled instalacija. Pritisnite ikonu olovke s desne strane instalacije koju želite urediti

Step 5. Pomaknite se prema dolje dok ne vidite Administratorski račun
Popunite staro korisničko ime i novu lozinku
Korak 6. Click Save Installation Details na dnu stranice.
Putem WordPress-a
Morat ćete znati adresu e-pošte ili korisničko ime

Step 1. Idite na administratorsku ploču web lokacije. Najčešće je to http://domain.com/wp-admin
Step 2.  Kliknite na Zaboravili ste lozinku?
Step 3. Unesite adresu e-pošte ili korisničko ime i kliknite Dobij novu lozinku
Step 4. Provjerite svoju e-poštu, bit će veza za resetiranje